The Poitevin Marshes and the Sèvre niortaise make up a paradise for amateur and experienced anglers alike. Along the conches or the Sèvre NiortaiseHere, you can tease the species of this great wetland. It's also an opportunity to discover the traditional fishing techniques specific to marsh areas. The quality of the waters, which are rich in fish is recognised by the organisers of top-level fishing competitions.
---
What species of fish can be caught in the Marais Poitevin?
White fish
Let's keep
Breams
Carassins
Tanches
Carp
Carnivorous fish
Pikelets
Pike-perch
Poles
Black bass
Catfish
The eel
Eels look like snakes but it's really a fish that you can't miss. The flesh is edible and very tasty. This is a species of fish belonging to the Anguillidae family. The eel population is declining in Europe for several years now. Moreover, very strict rules have been put in place for the conservation of the species with, for example a ban on fishing for glass eels (baby eel). It is a highly sought-after and extremely expensive delicacy, often subject to poaching. The Parc du Marais Poitevin has set up the "Migratory Fish" programme to conserve this emblematic species. Eel fishing is therefore possible, but subject to compliance with a number of rules which you can find on the Deux-Sèvres Fishing Federation
Crayfish
Fishing for American crayfish in the Poitevin Marshes is an activity that can be but which is regulated. In fact, the American crayfish, also known as the Louisiana crayfish, is a very rare species. an invasive species which was introduced to Europe in the 1960s. This species has harmful effects on the ecosystembecause it can cause significant damage to banks and aquatic plants, as well as to local wildlife.
However, it is possible to fish for American crayfish in the Marais Poitevin, but only under certain conditions. Crayfish that are caught must be destroyed immediately, because it is forbidden to release them into the wild.
The different types of fishing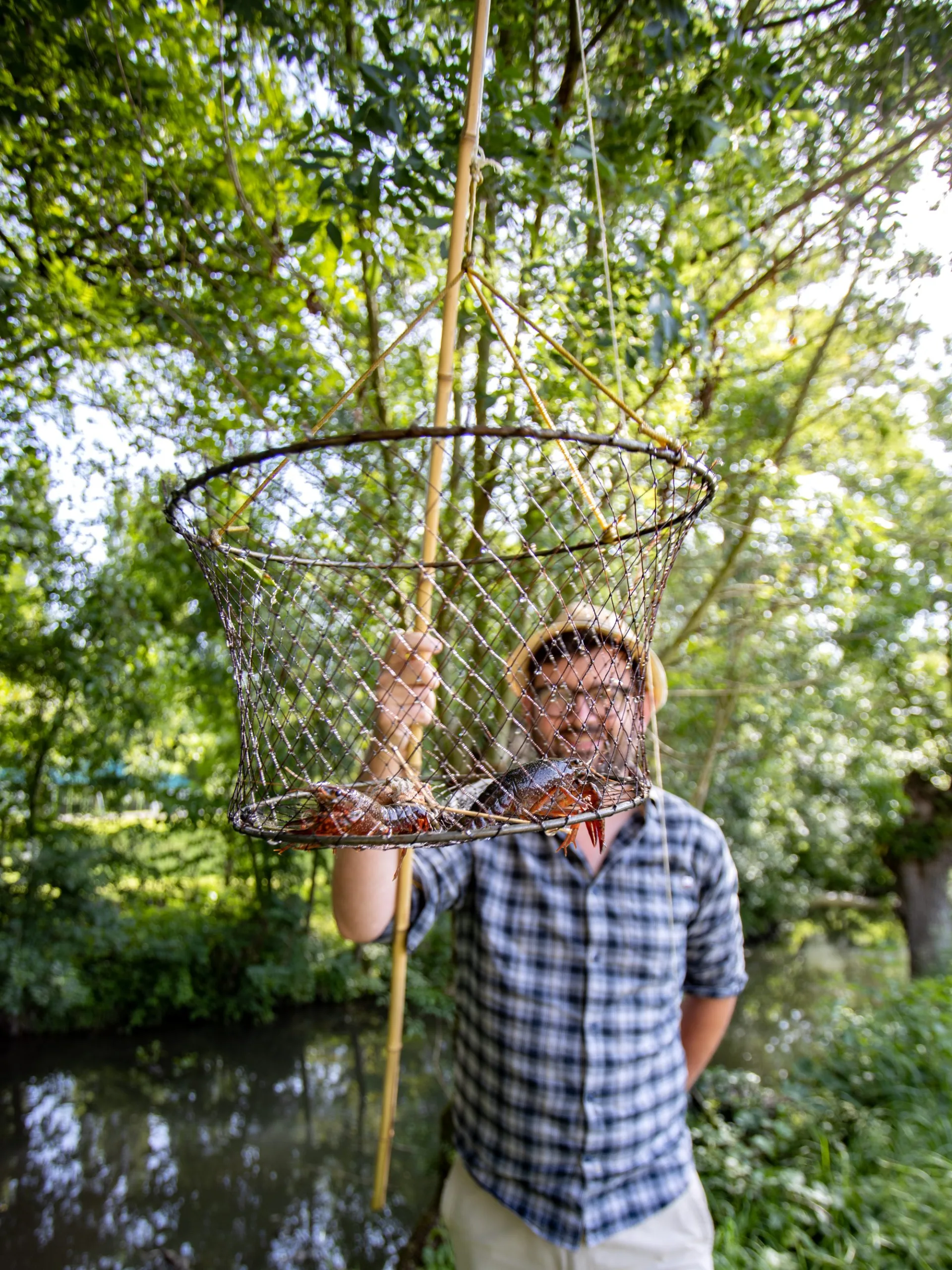 Fishing with scales
Our waterways contain freshwater crustaceans, including crayfish. It can be caught on the scales, a kind of large-mesh landing netin which we put baitand then place it at the bottom of the water; all you have to do is be patient...
Lure fishing
Lure fishing is a fishing technique where an artificial lure is used to imitate the behaviour of prey and attract fish. This method is popular for carnivorous fishing such as pike, black bass and zander. Lures come in a variety of shapes, sizes and colours.
Spearfishing
Spearfishing is a static fishing technique where a bait is placed on a hook attached to a line. The line is often attached to a float to help detect bites. This method is commonly used for catching white fish such as roach, tench and bream.
Fly fishing
Fly fishing is a fishing technique using an artificial fly to imitate the insects that fish eat. It is popular for trout and salmon fishing. Flies come in a variety of sizes, shapes and colours, and are often handmade. This fishing is a real spectacle to behold as the angler makes continuous back and forth movements with his rod, unlike other fishing methods where discretion is the key word.
Vermee fishing
Earthworms wrapped around cotton thread to create bait which eels love. The fisherman sinks his line to the bottom of the water and watches for an eel. Eels won't be able to resist this tasty treat!
This typical fishing in the Marais Poitevin at dusk. Since the management plan set up by Europe in 2007 to safeguard the species, there has been no sign of any change, night fishing is no longer permitted. However, vermee fishing can still be carried out during authorised fishing times.
Some ideas for fishing spots
01
Coulon
Discover the "Henry Limouzin" route. It stretches for 5 km between the Marais Pin and Sotterie locks. On this route you will find many white fish and predators.
02
Arçais
Leaving from Grand Port d'ArçaisAlong the towpath, you can tease a variety of species, including pike, carp or trout!
03
La Roussille
As well as being a fishing spot with plenty of fishLa Roussille also offers a green landscape with its lock, which is one of the most important between Niort and Marans.
04
Au Vanneau
Special route for people with reduced mobility
"La Grande Rigole" at Le Vanneau is a fishing area. for people with reduced mobility reduced set up on the banks of the Garette ditch with parking, deactivated concrete pathway, curbstones to block the wheels of the wheelchair and picnic table
5
Robert Bonnin Lake in Niort
A 1 hectare fish-filled lake where you will find carp, tench, bream, catfish, roach, pike, crayfish and some very large white suckers! Open from February to Decemberyou'll need to buy a specific card to fish in this lake: €27 for the year (€12 from 1 September), €5 for the day, available from the warden or from Pacific Pêche and Natura Chasse & Pêche shops.
How to obtain a fishing licence
and navigation conditions on the Sèvre Niortaise river
You must have a fishing licence to fish in public or private freshwater. The fishing pass helps to finance the following activities protection of the aquatic environment, development of fishing routes and fish farming management. It also enables the authorities to monitor fishing activities and ensure that they are carried out correctly. compliance with the rules in force.

Fishing cards can now be bought onlineor from home by visiting the website www.cartedepeche.fr or by visiting at a dealer which you can consult the list here. Prices vary depending on the duration, type of fishing and age of the angler.

What's more, if you fish on the water with Whether you're travelling by boat or float tube, it's important to find out in advance about the navigation conditions on the Sèvre Niortaise.
Fishing" approved accommodation
You should know that certain gîtes and guest rooms received a "fishing" qualification from the Clévacances and Gîtes de France labels. These homes must meet certain criteria, such as the proximity of the Sèvre niortaise, offering specific services to anglers...
Find out more about our partner-labelled accommodation providers: